Submitted by Malina Hamilton... on
Free show - Super Massive play the very first show for new electro/rock night "Sinthetic" at the Golden Sheaf, Double Bay.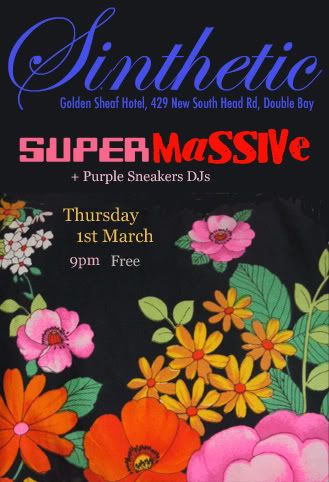 Super Massive play at the very first night of Sinthetic this Thursday 1st March at the Golden Sheaf Hotel, with Purple Sneakers DJs on the decks from 9pm.
Sinthetic is a new weekly electro/rock night with no cover charge.
Just the right band to kick off the series, Super Massive is a stunningly huge sounding, creative dance/rock group from Sydney, with the distinction of bringing extra musical detail into their electro based songs with beautiful, accomplished, live playing. They make dance/pop/rock songs with soul, beauty, hard filth, and gorgeous layers of synths and sounds.
Log in to post comments

2526 reads