Super Massive at Sinthetic, Golden Sheaf Hotel, Thursday 1st March
Free gig, cheap Becks beer and a new night for lovers of live electro/rock, with Sydney's newest dance/rock exemplars Super Massive playing the first show.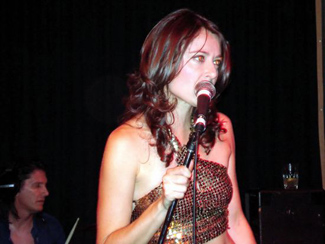 Super Massive play at the very first night of Sinthetic this Thursday 1st March, with Purple Sneakers DJs on the decks from 9pm.
Sinthetic is a new weekly electro/rock night at the Golden Sheaf, with no cover charge and cheap Becks beer on offer.
The perfect band to kick off the series, Super Massive is a stunningly huge sounding, creative dance/rock group from Sydney, with the distinction of bringing extra musical detail into their electro based songs with their beautiful, accomplished, live playing. They make dance/pop/rock songs with soul, beauty, hard filth, and gorgeous layers of synths and sounds.
So far they have played just under a dozen gigs at venues around Sydney including Spectrum, Hopetoun, Annandale and @Newtown as well as shows at the Beach Hotel, Byron Bay. They are currently putting the finishing touches to a five track debut EP.
The band is fronted by theatrical and versatile songwriter/performer Malina, with Glenn Abbott (MGF, BFSE) on deliciously funky drums & computer and John D. Young (Marcia Hines, Vanda & Young) playing the most awesome bass you'll ever hear.
For more information go to: http://www.myspace.com/supermassivesounds
Or contact:
Malina Hamilton-Smith
Mob: 0415 704 305
E: malina@aapt.net.au
::: category:
::: location:
Log in to post comments

2192 reads