Places + spaces invites you to the launch of their series Common Eclectic, music in Glebe Town Hall.
A musical showcase that flirts with intimate performances of comedy, music and magic, Indie artists, chamber opera, gypsy jazz or a twist on a string ensemble. A musical taster to whet the senses.
The series kicks off with Sydney's favourite folk club High Tea launching their 2015 season with The Maple Trail and PHIA in a double bill on Saturday 7 February. This special show features the sublime songcraft of Aidan Roberts and the kalimba-toting Phia.
The Maple Trail is the project of multi-instrumentalist Aidan Roberts (Belles Will Ring, Lanie Lane, Tubular Bells For Two). Roberts has gathered a new collection of songs to follow 2012's acclaimed album 'Cable Mount Warning'. His music travels from his roots in traditional English and Scottish folk, skewed Americana and distinct vocal and guitar storyscapes. These are the latest tales of winter and summer, light and dark, love and loss, tigers and Tasmania.
Joining The Maple Trail is Berlin-based PHIA - hailed by the European press as "one of Australia's most underrated musical exports". She creates "hypnotic, joyful and definitely danceable" music using nothing but an African Kalimba, her voice and a loop pedal, plus her producer/guitarist Josh.
The performance series runs from February to November — what you'll see and hear is an eclectic selection of music and musicians. The program is dynamic, much like the artists they are working with. It's an eclectic bunch, flowing from jazz grooves, epic folk music, a touch of classical to sound art and soundscapes in the beautifully restored Glebe Town Hall
Artists include the Crooked Fiddle Band, Spyglass Gypsies, Stephen Adam, Clocks & Clouds, David Bridie, Fred Smith, Mic Conway & Robbie Lang, Hinterlandt Ensemble, Daniel Weltlinger, Simon Lobelson and more.
High Tea with Aidan Roberts and PHIA (double bill)
Saturday 7 February from 7 pm, performance commences at 8pm
Glebe Town Hall, 160 St Johns Road, Glebe
All tickets $15 - book now - Moshtix
Places + spaces thank the City of Sydney for their support as Principal sponsors of this project
-- via places + spaces email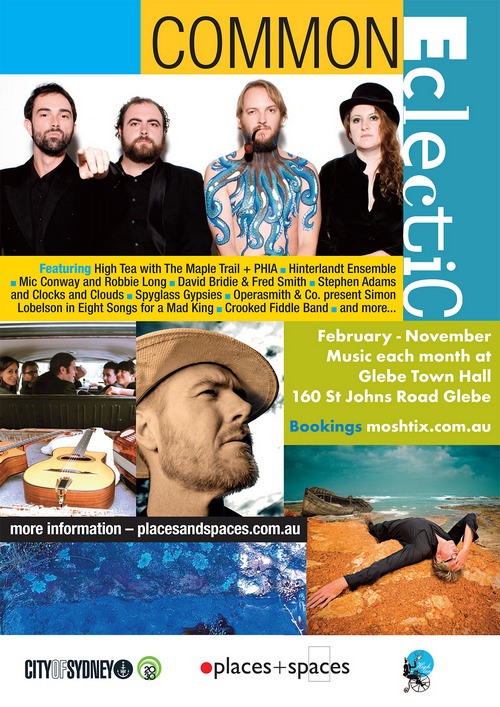 Log in to post comments

10765 reads