Super Massive @ Hopetoun Hotel (Sydney) with The Chronics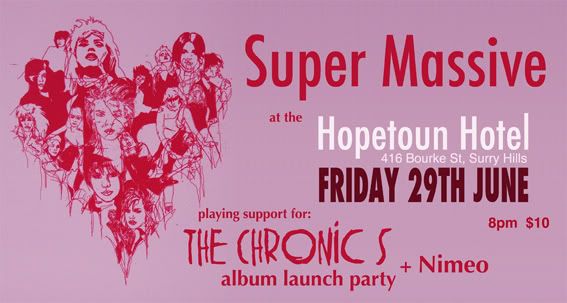 Super Massive build on their brilliant recent show at The Supper Club, Will & Toby's Taylor Square, with a return to old fav The Hopetoun Hotel on Friday 29th June, to support The Chronics for the launch of their debut album "Switch Me On".
The Chronics write a catchy tune, and first single "On Account Of My Lover" has already been added to high rotation on Fbi.
Super Massive are also purveyors of catchy tunes, delivered in a heady brew of tasty playing, exhilarating grooves, gorgeous creative layers of synth sounds, and loads of rock-fuelled stage presence.
A fun, raucous night! Don't turn up late, as it may be a squeeze..
Doors open 8pm. $10- Local band Nimeo support.
For more information, go to: http://www.myspace.com/supermassivesounds
Log in to post comments

2884 reads