specture readings 03
AI, GPT, digital and generative art, First Australians' knowledge book series, 3D art experiences ::: 20230409 - 20230412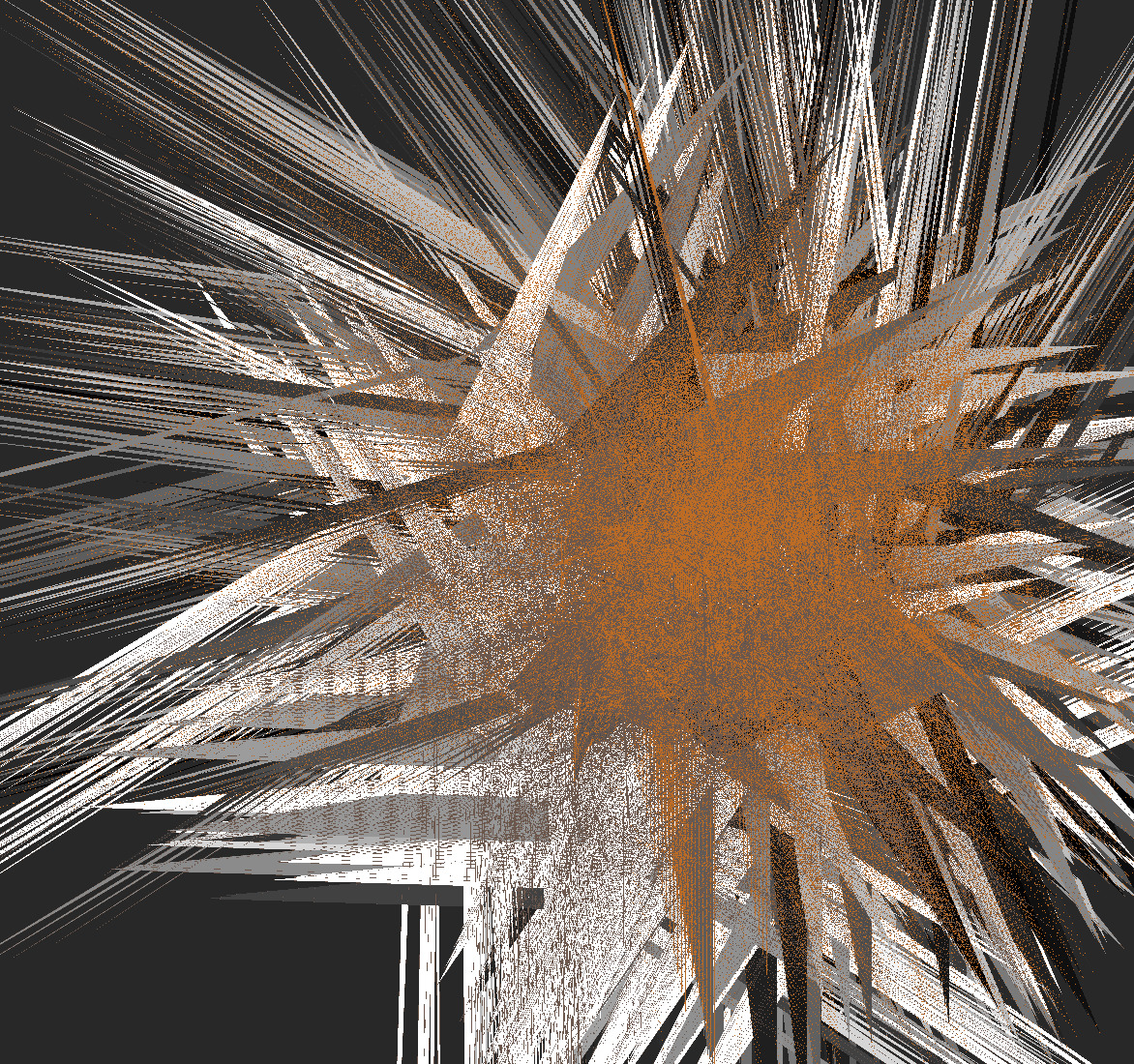 reading and watching
---
::: Margo Neale and Lynne Kelly discuss Songlines and the importance of memory, place and oral history in First Australians' culture (video), and a response to Bruce Chatwin's book/interpretation of Songlines, as capturing, quite quickly, the essence of them. Their books discuss these further, particularly Songlines: The Power and Promise (2020).
see also:
Bendigo Writers Festival. 2021. "The Songlines Code: Margo Neale and Lynne Kelly." YouTube. Video, 14:50. https://www.youtube.com/watch?v=gUcbbPS1z6E.
Neale, Margo (Editor). 2017. Songlines: Tracking the Seven Sisters. Canberra, ACT: National Museum of Australia.
Neale, Margo and Lynne Kelly. 2020. Songlines: The Power and Promise. Melbourne, Victoria: Thames and Hudson.
The First Knowledges series is very good, with books on different First Australians' knowledge topics, to start/continue the discussions — see titles:
- Songlines: The Power and Promise
- Design: Building on Country
- Country: Future Fire, Future Farming
- Astronomy: Sky Country
- Plants: Past, Present and Future
- Law (coming soon)
- Innovation (coming soon)
---
::: Valemon the Bear - a multimedia story using myths in the anthropocene and ecological crisis
::: Make The Tech Disappear! ::: R.U.Sirius from 1980s/1990s Mondo 2000 Magazine is writing for Mindplex Magazine, a new platform exploring AI and the technological future. Always enjoy RU's perspectives and writing, so I'm looking forward to reading his follow up critique on NFTs/blockchain - from what I gather, this is more on finance/crypto and PFP side of things, rather than artists being able to support themselves via selling their digital art. Other writers/thinkers I've followed over the years are involved in this platform: Dr. Ben Goertzel from SingularityNET/AGI/HumanityPlus worlds is editor in chief, and Lisa Rein (Aaron Swartz Day / Chelsea Manning's archivist / Timothy Leary's digital archivist) is an Editor for them. The About page mentions blockchain/tokenomics incentives, so perhaps this platform will use this new approach to using blockchain platform to provide payments for writers, similar to typed.art and fx(text). The aesthetic of the site is very future-neon, with many AI/ML looking generated images. Looking forward to how this will develop.
::: Generative Agents: Interactive Simulacra of Human Behavior ::: via Veqtor and a thread explaining the behaviour seen by the agents, comparing to the ideas in Westworld tv series ::: via NonMayorPete and KevinAFischer
::: "Golan Levin makes art that looks back at you" (2009) (video) ::: "Golan Levin shares some of his interactive video, computer vision artworks, some with robotics, some on-screen installations." via Marius Watz Marius notes: "I was just thinking yesterday of how much weirder the digital art I came up with than what we see now in NFTs, this is a great reference." ::: I think one reason is we're often blocked from external sites/security settings (eg camera, audio) or walled gardened on the platforms & many of the examples in the video are standalone installations —> NFTs are 1->many vs installations as 1:0/1
::: Microsoft Researchers Claim GPT-4 Is Showing "Sparks" of AGI article - "We believe that GPT-4's intelligence signals a true paradigm shift in the field of computer science and beyond." ::: see Sparks of Artificial General Intelligence: Early experiments with GPT-4 research paper ::: I think it's too early to say this is approaching AGI as AGI is a harder problem to 'solve', but interesting to watch the new developments
::: Art History and AI: 10 Axioms ::: on responsible use of AI via digital art history journal
::: Vanuatu's existential climate threat: "Losing my country is not an option" — In the wake of the latest warning from the Intergovernmental Panel on Climate Change, the Pacific island nation renews calls for a global phaseout of fossil fuels ::: by Ralph Regenvanu
::: Radical Pedagogy — The AI Anarchies Tracker ::: "A space to consider AI as a prompt to abandon positive and positivist visions of the future, for meaningful resistance in a time of an overdetermined computational life." ::: interviews with and articles about AI practitioners. Also has reports from the AI Anarchies project on AI Ethics, initiated and curated by Clara Herrmann & coordinated by Nataša Vukajlović and held at JUNGE AKADEMIE Berlin's Autumn School, 13-20 October 2022 — this used an improper learning / speculative approach to considering the topic, based on ideas from Fred Moten and Stefano Harney, and outlined in the book The Classroom is Burning, Let's Dream about a School of Improper Education (2020) by the Kunci Study Forum & Collective from Yogyakarta, Indonesia ::: via HOLO
::: What happens when ChatGPT starts to feed on its own writing? — AI chatbots won't destroy human originality. But they may homogenize our lives and flatten our reality — by Sigal Samuel
::: WAC Weekly | Unlocking Web3 for the Arts and Culture ::: "an open space to discuss the latest web3 news in the arts and culture world" ::: On April 12th, 5pm UTC the discussion topic is Collecting Art as a New Crowdfunding Model ::: via We Are Museums
::: Floodplains virtual 3D experience highlights the impact of dramatic weather events via AliaK
::: Figured Stones: Exploring the Lithic Imaginary by Paul Prudence ::: via AliaK
::: Flora | Fauna #2 exhibition @ Tz1and 3D virtual world ::: via AliaK
::: Kitel | A Generative Artist for Ukraine — Following the success of his project Fields of the Abandoned Homeland Kitel shares the story behind his defining image of peace
::: Flowers: Daniel Brown creates organic art from code (2013)
::: "Why are there no Great Digital Artists?" (#DIGART facepalm)]() by Marius Watz (2012)
::: The Stack Report: Blockchain Data Visualizations For Tezos Ecosystem (video) (online stream April 13, 11 AM EST) ::: via Fuel Arts ::: there's always room for more data analysis and reporting in Tezos (and elsewhere) so this will be interesting
:::: Use AI while you can? | Artist Journal video #161 ::: Adrian Pocobelli is back from holidays with his great series of video journals, balanced news reporting and art viewings
::: The Tickle issue#81 was released ::: a great magazine featuring digital artists by the In Warhol team
::: on Andrea Fraser ::: Follow the money by J.J. Charlesworth in ArtReview and Andrea Fraser — Marian Goodman Gallery | New York by Jan Avgikos ::: via Taeyoon Choi ::: "How art gets tangled in the web of interests that sustain the artworld – political, economic and ideological – has been Andrea Fraser's subject over a thirty-year career. Her performance-based works have confronted issues including the privileging role of the museum, the power of the art market and how artists become complicit in reinforcing the idea of art's special cultural status. Fraser's long engagement with these problems in many ways anticipated the growing attention paid to how power and influence now operates in the artworld."
::: espinosa: mestizo glitch && visions of the unseen realm! DOS DAO DISCUSSIONS — jonCates (2023) ::: jonCates' interview with espinosa ::: via espinosa ::: "espinosa focuses on exactly these 'weirdy' 'unexpected' values of Glitch Art, the Art of surprise. espinosa adds to the vocabulary of Glitch Art creating the mestizo glitch genre. exploring the discarded, espinosa makes TRASH ART, pulling bits and pieces into new meaningful relationships."
::: TarraWarra Biennial 2023: an experience of Indigenous-led relationships — TarraWarra Biennial 2023 offers an invitation that goes beyond the gallery walls, by Celina Lei ::: the TarraWarra Biennial 2023: ua usiusi faʻavaʻasavili (an alagāʻupu, Sāmoan proverb, meaning 'the canoe obeys the wind') features Indigenous voices and practices with a particular focus on relationships with ecology / nature and impacts of climate change
::: Good Work: building a stronger arts ecosystem — How can we nurture and sustain a thriving Australian arts ecosystem? Four cultural leaders offered ideas at a recent forum in Melbourne, by Rochelle Siemienowicz ::: an update on the forum discussions on this topic, covering questions on responsibilities of larger cultural organisations, diversity, needing/creating safe spaces and some ideas for the future
::: A Look Back At The History Of Ultra Music Festival by Cyclone Wehner ::: via TheRealCyclone ::: a great background to the upcoming EDM festival
::: Kaedim3D creates 3D models from 2D images - used in this example and this demo
::: John Olsen: the last of Australia's great generation of artists by Amy Ripley ::: vale John Olsen
listening
::: Polar Sounds - described as "a unique project re-imagining some of the little-heard sounds of the Arctic and Antarctic regions, reflecting on climate change and the evolving sounds of the polar seascapes." ::: via Cities and Memory
::: Melbourne 2030 Derive by Andrew Garton ::: "Melbourne 2030 Derive is a non-linear play that draws on public service jargon balancing culture, heritage, community, ecology and commerce with the needs of an ever-expanding population and the demands made on stressed infrastructures and diminishing resources. The play is based on a casual reading of Guy Debord's Theory of the Derive (1958) interwoven with random quotes from the Victorian State Government's 2002 strategic plan Melbourne 2030 - Planning for sustainable growth, along with random texts drawn from development applications lodged in Victoria and the policy frameworks they are approved by.
::: D3 Derive by Andrew Garton ::: "Produced with one of the earliest generative composition tools, Koan Pro. Each piece was associated with videos that comprised the D3 audiovisual installation produced for the Australian Centre for the Moving Image (ACMI), 2003. These pieces were heard live via the Koan App within the installation varying for the entire 6 weeks of the exhibition. This recording is a 'snapshot' of one of the countless iterations heard at the ACMI. This album includes a bonus recording from one of Andrew's earliest Koan inspired compositions, Sensorium Scan."
---
::: The Peregrine by Lawrence English ::: love this background via Lawrence, so sharing here: "I first discovered The Peregrine when I was visiting my friend David Toop in London. He had the book on his desk and I picked it up and randomly turned to a page. It was an exquisite description of an Owl silently hunting. I was struck by the detail and evocative sense of listening in the writing. It was as though, I was there experiencing that moment through the author's ears. I turned to another page and before I finished that paragraph I was sold. I ordered The Peregrine and was reading it avidly days later."
"Since that time I have spent a good deal of time with that book and J.A Baker's only other text The Hill Of Summer. I've purchased in excess of 100 copies of The Peregrine, gifting them to fellow musicians and artists who visit and occasionally sending them to people who I felt might relish the book. Most infamously I suppose is my sending the book to Werner Herzog, who I was introduced to by my friend Douglas Quin. Herzog loved the book and now includes it as essential reading in his film school. "
"For me, The Peregrine captures a very special turning point in the 20th century. It marks a recognition of the role humans play in shaping their environment. Without ever addressing the topic directly, Baker's misanthropic, almost nihilistic reading of modern life pinpoints many issues that have come to a head in contemporary society."
---
events
::: NAM JUNE PAIK: MOON IS THE OLDEST TV film — showing in New York at Film Forum ::: via TimothySaccenti ::: "uses archival footage and clips from the artist's work to recount his collaborations and fascinations with Joseph Beuys, Charlotte Moorman (the topless cellist), David Bowie, Philip Glass, Laurie Anderson, Allen Ginsberg, Merce Cunningham, and his great mentor and friend, John Cage."
::: Dobell Drawing Prize #23 @ National Art School Gallery, 31 March – 10 June 2023 ::: Australia's leading prize for drawing
classes
::: autoGPT for making GPT4 agents - see video tutorials
::: AI Programming with Python at RMIT ::: starts 17 April 2023
::: Salvage Sketchbook class with India Flint ::: making hand made, drawn, stitched, dyed and painted sketchbooks from repurposed materials
::: Body Data and Complex Systems ::: "What can we learn from transforming small self-tracking datasets into creative sketches that center our human body as a complex system?" — 24 April - 23 May @ School of Machines
::: location: