Love Our Laneway Brisbane - saving Brisbane buildings
"Love Our Laneways Brisbane hopes to save the laneway precinct and beautiful old building (a 1920's printing warehouse) between Elizabeth and Charlotte Streets in the city, which has just been approved by the city council for imminent demolition. Reminiscent of Melbourne or even Barcelona, this area could be an incredibly vibrant addition to the cultural life of the CBD, instead a glass and steel office tower has been approved to be built for the Australian Tax Office. Amazingly this building is not heritage listed, so the only way to save it is if the developers or the ATO have a change of heart. We are not against the development per se, but respectfully ask them to consider the incredible potential of this site, and amend their building plans to integrate the laneway precinct and heritage building at its rear. It would be a shame to lose this building for the sake of a loading bay and AC plant to service the new development. If you're unhappy your tax dollars are contributing to the demolition of Brisbane's heritage then sign the petition now, and pass it onto your friends, enemies and lovers of laneways everywhere!"
http://www.ipetitions.com/petition/lolbne/ has the petition - please sign this to show your support.
Sydney and Melbourne have a great laneway culture. In Sydney there's been new pop-up bars/cafes showing up in the lanes. People have been loving them. Would be great for art galleries and street art too. I hope Brisbane can save this space!
The City of Sydney are working on a Late Night Trading plan for more bars and art spaces to make the city more attractive.
[quote]The City is developing a night time policy that that will broaden the scope of the City's late night offering - with late night cafes, museums, galleries and shops, combined with improved transport options, and events that are not primarily centered on drinking.[/quote]
The NSW Department of Tourism also highlights Pop Up Sydney as a feature of the city for tourists to visit.
[quote]Sydney is home to a new breed of restaurant, bar, gallery, cinema and shop – the 'pop-up'. Not permanent fixtures, these temporary structures are often located in vacant spaces, shipping containers and warehouses and are favoured by the style-set.[/quote]
Newcastle has the incredible Renew Newcastle project bringing life, art, music and culture back into the buildings abandoned after the Newcastle earthquake. Marcus Westbury and Marni Jackson have worked tirelessly on this project. They've since started Renew Australia to help other cities in Australia use this model too. Marcus has spread the word in the USA also. Lonely Planet even lists Newcastle now as one of the Lonely Planet's top 10 cities for 2011 - I think this is in part due to the cultural activities flourishing in this city.
[quote]9. Newcastle
Is it Australia's most underrated city? Anyone surprised to see Newcastle on the list of 2011's hottest cities (and there's a few of you, right?) probably hasn't pulled in off the Pacific Highway, or at least not for a while. Newcastle flies under the radar of Aussies and international travellers in part because it's overshadowed by its bigger, bolder and better-known sibling, Sydney, 150km south. But, at around one-tenth the size, Australia's second-oldest city has Sydney-like assets: surf beaches, a sun-drenched subtropical climate, and diverse dining, nightlife and arts. Not only is Newcastle ideally located just two hours by road or rail or 30 minutes by plane or seaplane from Sydney, it's less than an hour's drive west to the Hunter Valley wineries, south to sailboat-filled Lake Macquarie, north to whale-watching and sharkfeeding at Port Stephens and to sandboarding at Stockton Beach (the southern end of the 32km-long beach is a five-minute ferry ride across Newcastle's harbour).[/quote]
Brisbane is also a great city with many levels of music and arts culture to be shared. I wish that the City planners and Government would see the value in these things too!
My friend MJ in Canada said, "Of particular interest, perhaps, to Austrailian folks -- but boy, can I ever identify with trying to save some character in a city that wants to replace everything with shiny office towers. Erasing the history kills the soul -- of the city and the citizens."
Lloyd Barrett sent me a link to a temporary party / gig held at The Alley, a boutique coffee shop and music performance space, presented by the 4C arts collective - sounds like it was a great night, I hope they can save the space for future gatherings there. The Alley is holding a closing down party this Saturday night, 9th April 2011.
One of the guys on facebook, Dave Reid, mentioned he'd spent "Many a night walking down there to the Sex shop club!" Now I know where this building is - I'm in Sydney so I'm a little hazy with the streets of Brisbane CBD these days as so much has changed in the past 10 years since I lived and grew up there. It was opposite Go Go's Club at the time. Sex Shop was a short-lived club but very special. It & Go Go's are two of my favourite clubs. Sex Shop would have been around 1992-1993? I'd need to check old flyers added to the bdpa archive. In case anyone isn't familiar with this club, there was no actual sex at the club, I think the name of it referred to the music being played being as good as sex, and because we had to walk down an alley and up rickety dark stairs, perhaps it was similar to going to a red-light district establishment. it was very small inside - one main room and a side area. I suppose it was fairly exclusive at the time, as not everyone knew about it, though once you'd been one time, you then became a regular. I have really clear memories of this place and also Go Go's - I wish I could get them accurately out of my head! we also used to go up on the roof of a building and watch the night sky and city below - overlooking Go Go's. I can't recall where/how we entered the building, so it probably was this one, as Sex Shop was down the alley and upstairs. we must have gone up more stairs to the roof. I remember the clear fresh air, and looking up at the sky, and down at the street & seeing people outside Go Go's. there were usually about 20 people or so up there - all the regulars. what a great part of Brisbane's dance music history - would be such a shame for it to be lost. now I feel like going back up there to take pictures before it's gone.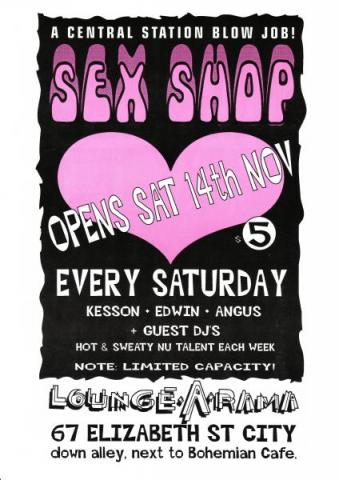 There is an article in The Chronicle about the building and an interview with John Macdonald, co-founder of the Love Our Laneways campaign to save the building from being demolished
[quote]"The Printery is similar in appearance and older than most of the Teneriffe Woolstores. People have grown to love this hidden CBD gem in the short time it has been open to the public. Incredibly however, it is not heritage listed, and as the DA has already been granted by the BCC the only way to save this building is if Grocon or their client the ATO have a change of heart. We're hoping they can see the value in having an incredible character laneway precinct on their doorstep.
"We are not against the development per se, but have requested they amend their building plans to integrate The Printery and surrounding laneways at the rear of the Elizabeth Street site. [/quote]
Thanks to Jane Slingo for the heads up - Jane's message:
[quote]The Brisbane City Council have approved a Melbourne development company to demolish a beautiful old building built some time between 1910 and 1920 to build an ATO building in its place. When they demolish the building they also take with them one of the city's iconic laneways in Elizabeth Street. A part of Brisbane's inner city culture will be gone forever.
"Save the Elizabeth Street Laneway in Brisbane's CBD"
http://www.ipetitions.com/petition/lolbne/
I really believe this is an important cause, city's are so much more interesting and culturally exciting when there are little nooks and crannies to explore. Brisbane has already lost so many of its historical laneways and buildings, lets not see yet another part of its cultural heritage and another of its laneways go! I'd like to encourage you to add your signature. It's free and takes just a few seconds of your time.[/quote]
please spread the word - time is short on this one
visit http://www.loveourlaneways.com for more details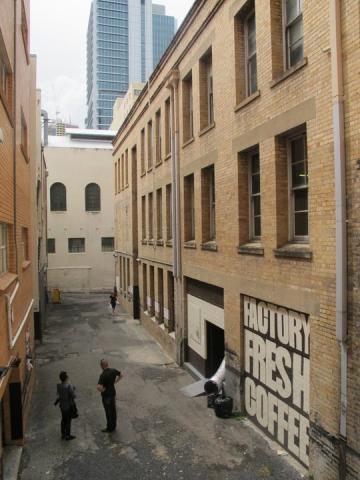 ::: location:
Log in to post comments

3517 reads