knitted recycled converse shoes
I just came across this article whilst reading some rss feeds. BlueAndRedCows on the craftster.org message board has posted a pattern for knitting converse shoes. apparently her old ones broke, so she replaced the fabric/canvas upper shoe with a knitted piece. they look great!! and seem to be really popular on the site also. Boing Boing's just posted an article about them also so I guess they'll be really popular soon!
it's great to see hand made / craft items being made, especially when recycling your favourite pair of shoes. I had a pair of converse boots when I was younger and I used to love those shoes. I bought another of the shoe type connies a couple of years ago but they were ruined once when they got too wet so I had to throw them out (couldn't get rid of the smell :( )
here's some photos of the final product. below is the pattern in case it's removed from the forum.
http://www.craftster.org/forum/index.php?topic=120442.msg1154164#msg1154164 is the url of the original forum message if you want to read the whole thread.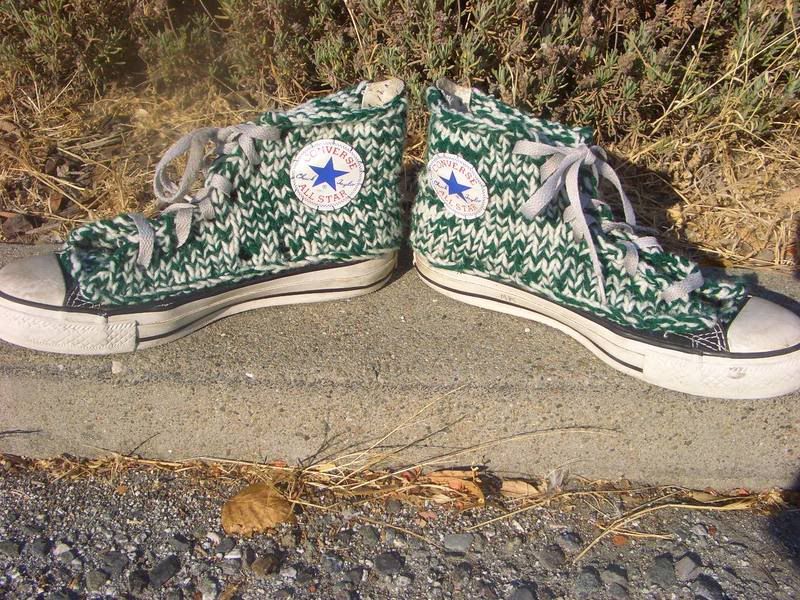 ---
[quote]
Okay, here's the pattern. It'll make a ladies size 8.
gauge: 2"= 7 sts (unstretched)
needles: US 6
yarn: any worsted weight yarn, double stranded
to make these shoes, you knit three separate pieces, and then sew them onto the shoe.
first piece (make two, one for each shoe..)
cast on 28 sts
1) K
2) P
3) K12, YO, K2tog, K1, YO, K2tog,K
4) P2tog, P
5) K23, YO, K2tog, K2tog
6) P
7) K20, YO, K2tog, K2, K2tog
Cool P
9) K17, YO, K2tog, K2, cast off 4 (this is the end of the row, so cut the yarn and rejoin it to purl back across the next row.)
10) P
11) K15, YO, K2tog, cast off 4 (same process as row 9)
12) P
13) K
14) P
15) K13, YO, K2tog, K2
16) P2tog
17) K14, K2tog
18) P
19) K11, YO, K2tog, K2
20) P2tog, P
21) K
22)P
cast off all sts.
2nd piece (make two, too). this is pretty much just the mirror image of the first piece.
1) K
2) P
3) K
4) P to last two sts, P2tog
5) K2tog, K2tog, YO, K
6) P
7) K2tog, K2, K2tog, YO, K
Cool P
9) cast off 4, K2, K2tog, YO, K
10) P
11) cast off 4, K2tog, YO, K
12) P
13) K
14) P
15) K2, K2tog, YO, K
16) P to last 2 sts, P2tog
17) K2tog, K
18) P
19) K2, K2tog, YO, K
20) P to last two sts, P2tog
21) K
22) P
cast off all sts.
Tongue piece (make two)
Cast on 9 sts
K 5 rows in stockingette
Row 6) increase one st on each side of the tongue (11 sts).
K approx 23 rows in stockingette. I made a one st garter border along the edges to stop it from curling. it still curled a bit, but you can't tell when you're actually wearing the shoes.
Now, the assembly!!!!
take your converse, and look at the back of it. there's a thicker fabric strip that goes right up the back of the shoe. this is going to stay on- don't cut it off!! it'll help keep the construction of the shoe strong. Here's a picture of it-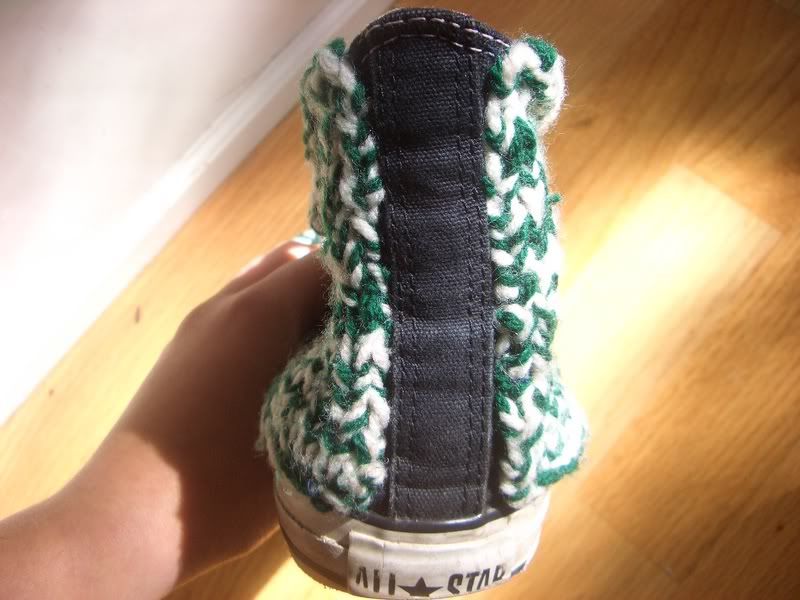 so except for that piece, cut off every other bit of fabric, leaving approximately a quater inch border of fabric left to the shoe. This is what you'll sew the knitted pieces to.
The side pieces will seem too small for the shoe, but they'll stretch- I didnt' want them to be too baggy.
When I sewed everything together, I used regular thread, but I double stranded it for strength. I would also strongly reccomend a thimble, because some parts of the shoe (in the heel and near the toe) are thicker and you'll want to protect your fingers as you have to push the needle in with a lot of force.
Next, cut the patches off the shoe, punch holes ( I used a needle) in the patch around the edges. You'll want to punch the holes before you sew them on, otherwise they're hard to sew on. Then attach them to the sides of the shoes, relace them, and you're good to go!
I was thinking about sizing, and I'm pretty sure it'd be really easy. One of my friends wants me to make him a pair of these, and so I measured his shoes (a size 9 ladies) and they're a half inch longer than the size 8s. When I make them, I'm going to cast on 2 more stitches, and do the shaping the exact same way, since all the shaping is done on one side, and the other side (which gets sewn to the heel) is completely straight. So theoretically, if each size up adds a half inch in length, you should be able to calculate how many sts to add.
Whoo! That's a lot of typing. I hope everything makes sense- if not, I'll do my best to answer questions! If you make a pair, post them here, I'd love to see them.
-- BlueAndRedCows
[/quote]
---
::: category:
Log in to post comments

2841 reads