Sound clash! FIREHOUSE vs JAFA MAFIA (NZ)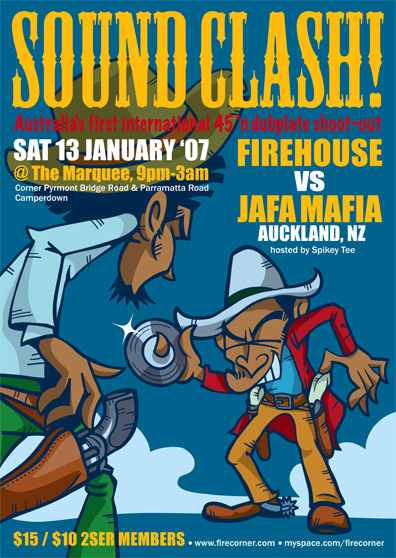 Real war vibes!
The first international sound clash in this country sees Australia buck up against New Zealand as Sydney's FIREHOUSE meets Auckland's JAFA MAFIA at The Marquee.
The Jafa Mafia is an Auckland sound system established in 2003 by DJs Tobi and Captain Midnite.
From their 95bfm.co.nz radio show 'Thunder & Joy' the pair found a shared passion for 'proper' bashment reggae and mad dancehall.
Tobi is NZ born and London raised, originates from the London free party/rave and nightclub scene having played most contemporary genres of dance music now focusing on dancehall, dubstep/grime and jungle.
Selector Midnite hails from Hungary and developed his love of Jamaican music whilst living in Rome checking One Love HP weekly.
The Mafia includes Flowzion and Tuff Enchant taking up the mic.
Having warmed up last year alongside Kyabamba Sound (Swiss) and Worries Outernational Sound (Ireland), the Jafas are ready to test the mighty Firehouse inna proper clash fashion.
Hosted by Spikey Tee.
http://www.firecorner.com
http://www.myspace.com/firecorner
http://www.myspace.com/jafamafia
Taxonomy upgrade extras:
Log in to post comments

2208 reads