Common Ground - street art festival in Wellington (NZ) with Via Grafik & Cut Collective
Via Grafik (Germany) meets Cut Collective (Aotearoa): 13 Feb - 17 May 2009
Street Art: some see it as a way of reclaiming public space, to others it's reckless vandalism. Either way street art offers a communication platform in an urban environment otherwise dominated by symbols of the media and advertising. Emerging from the graffiti movement in Europe and the USA in the 80s, street art has gained profile since UK artist Banksy sold recent work for 1 million pound. Common Ground looks at the phenomenon of street art in two very different countries on opposite sides of the globe - Germany's art collective and design studio Via Grafik and NZ's street art crew Cut Collective. The artists walk the line between art and vandalism, creation and disruption; and share a common belief that "if the wall is kept grey, the mind will follow."
Common Ground is supported by a full series of public programs including New Zealand first LASERTAG events.
13.02.2009 LASERTAG at The New Dowse, 45 Laings Rd Lower Hutt, 8 - 11pm
15.02.2009 Public Debate hosted by Jo Randerson, The New Dowse, 3 - 4pm
21.02.2009 Via Grafik & Cut Collective live at the Cuba Street Carnival, Wellington.
Bus painting for the parade and Cut Collective will be holding a stall in the market selling art, prints and T-Shirts
www.goethe.de/nz or 04 385 6924
www.newdowse.org.nz 04 570 6500
-- info via Cut Collective's myspace page : http://www.myspace.com/cutcollective_nz - read more or visit the myspace page for more details
Cut Collective is an art collective focussed on cultivating collaboration and creative relationships. Founded by Component, Enforce1, Flox and Trustme, the Cut Collective aims to work with many like minded creative peeps on a wide variety of art projects with an emphasis on street based work. Based in Auckland, New Zealand but reaching out to Welly, Melbourne, New York and beyond.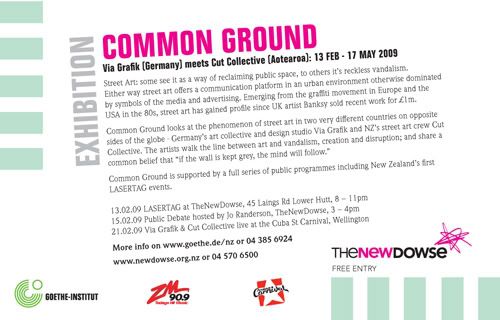 ::: location:
Log in to post comments

2311 reads