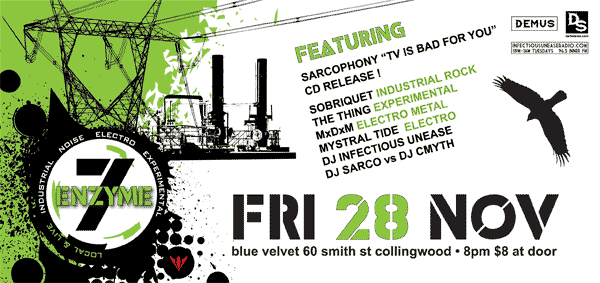 Non profit underground music entity DEMUS, is proud to announce...
FRIDAY 28th NOV 2008
Blue Velvet - 60 Smith Street Collingwood
8pm Start - $8 at Door
Live music performances by:
SAROPHONY
http://www.myspace.com/sarcophony
Melbourne based Industrial Metal producer is releasing his new CD "TV is Bad For You" on the night, featuring remixes from local and international artists, and rare tracks.
DJ SARCO vc DJCMYTH
Will be playing sets of local music, tracks from the Sarcophony release and a dark range of other goodies.
DJ INFECTIOUS UNEASE
http://www.infectiousuneaseradio.com
Need we introduce the wide ranging Noir tastes of the founder of Infectious Unease Radio?
MxDxM
http://www.kostar8.com
http://www.myspace.com/kostarproductions
MxDxM (aka K.O. StaR) specializes in creating Underground Electronic Metal Dance Music. MxDxM's approach is based on simplicity and minimalism.
SOBRIQUET
Log in to post comments

3504 reads